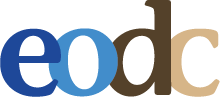 End of year update 2020
---
A very challenging year with many hurdles to jump is coming to an end for all of us.
Nonetheless, operations and projects at EODC kept running and even though our staff was primarily working from home-office, we managed to win great new projects, expand out IT-infrastructure and participate in a number of exciting online events. In addition, we launched our new website and revised our service catalogue.
Our year in numbers
1 New website launched
with a strong focus on our services

2 Hackathons supported
with virtual machines and technical mentoring

3 New partners welcomed
Statistik Austria, Österr. Hagelversicherung, GBA

4 New employees
have strengthened our team

9 New projects started
and 9 projects successfully closed
492 Support tickets processed
with our new support system

1 400 000 000 MB data ingested
7.5 TB per day
10 380 902 400 MB tape storage added
New EODC Cloud put into operation
Earlier this year our new OpenStack based cloud environment was put into operation. The new EODC Cloud utilizes brand new state of the art compute nodes serving 2000 vCPUs and 7,5 TB RAM. With this extension we are now able to provide in total 3000 vCPUs and 14 TB RAM to our partners and customers.
In addition to the new hardware, we have also improved the connection to the storage systems to ensure faster and more stable access.
Over the course of the year, projects were gradually migrated to the new cloud environment. In this context we introduced "administrative roles" that should help streamline and improve support services.
Our partners and customers can manage their virtual resources via the EODC Cloud Launcher using the OpenStack Dashboard and API.
VSC-4 available for EODC partners
Vienna Scientific Cluster 4 (VSC-4), the most powerful supercomputer ever installed in Austria, was powered on in June 2019 and user operation started in autumn.
The new system consists of 790 water cooled nodes (Lenovo SD650), each with two Intel Skylake Platinum 8174 processors with 24 cores. The 700 standard nodes have a main memory of 96 GByte, there are 78 fat nodes with 384 GByte of main memory and 12 very fat nodes with 768 GByte. Each node is also equipped with an SSD device of 480 GByte, available as temporary storage during the runtime of a job.
VSC-4 is ranked 82nd in the June 2019 TOP500 list. The HPL (High Performance Linpack) benchmark has reached a performance (Rmax) of 2.7 PFlop/s, with the theoretical peak performance Rpeak being 3.7 PFlop/s. Read more in the TU Wien news article.
VSC-4 is now available for EODC Partners through the EODC HPC service.
EODC on-boarded into Network of Resources (NoR)
In June selected EODC services were on-boarded into the ESA Network of Resources (NoR).
The NoR is an ESA initiative to facilitate the use of cloud environments by users. It aims to stimulate the uptake of platform services by scientific and commercial users and to innovate their working practices, moving from a data download paradigm towards a 'bring the user to the data' paradigm, considered essential for maintaining competitiveness of European data exploitation.
The NoR initiative also provides sponsorship for approved user projects requiring Resource and Platform Tier Services.
openEO platform kicked off
The openEO platform project funded by ESA was kicked off in September 2020. It will develop an innovative solution to facilitate access to earth observation data from various sources, but also to make it available in the most efficient and manageable way possible. openEO platform will be built on top of the openEO API that was developed in the last 3 years in the frame of the H2020 project "openEO".
The vision is to establish a primary source for scientists, companies and authorities to get data for enabling strategic actions resulting sustainable environmental and social improvement in the easiest way. Special focus is directed on the universal use of data, concealing the complexity of the underlying processes.
Special thanks to our partners: Vito, Sinergise, the University of Münster, Eurac Research and EGI Foundation for working together on this project.
Stay in touch and subscribe to our mailing list.
Global Flood Monitoring (GFM) project kicked off
The EODC and its partners GeoVille, TU Wien, LIST, CIMA, and DLR are very proud to have been selected to implement the Global Flood Monitoring (GFM) service for the European Commission's Copernicus Emergency Management Service (CEMS) hosted by the EC's Joint Research Centre (JRC).
Using EO data from the Sentinel-1 suite of satellites, linked with the state-of-the-art flood detection models, the Expert Flood Monitoring Alliance will produce near real time flood monitoring products within 8 hours of the satellite observation. The products will be integrated within the current Copernicus EMS European Flood Awareness System (EFAS) and the EC and ECMWF's Global Flood Awareness System (GloFAS).
The first contract to implement the operational near real time flood monitoring service was launched in mid-November 2020 and a framework agreement is in place for the Expert Flood Monitoring Alliance to operate and maintain the service, in the first instance, until late 2026.
The project was presented at the Virtual Global Flood Partnership (GFP) Conference on November 4th by Dr Peter Salamon, Coordinator of CEMS implemented at the European Commission's Directorate-General Joint Research Centre (DG-JRC).
DTE Hydrology project started in September
The European Space Agency's (ESA) Digital Twin Earth (DTE) Hydrology project aims at fostering a fast step forward towards establishing a solid scientific and technical basis to realise a Digital Twin Earth focused on the water cycle, hydrology and its different applications. The project aims at building a high resolution 1 km, sub-daily, satellite-based dataset, integrating in-situ and model data, and develop a modelling system to provide a 4D reconstruction of the water cycle.
The 4D reconstruction of the water cycle will be integrated in a cloud-based DTE Hydrology simulation and visualization tool, implemented and hosted by EODC, which the users can exploit to develop user-oriented case studies focusing on flood and landslide risk, and water resources management. The selected area of investigation is the Po River Basin (northern Italy).
The project will run from September 2020 to September 2021 and is led by CNR-IRPI (Perugia, Italy) with the collaboration of TU Wien, CIMA, Ghent University, EODC and University of Bologna.
The principal investigator of DTE hydrology, Dr Luca Brocca, presented an overview of the activity at ESA's Phi Week 2020.
Space4Mobility hackathon powered by EODC
The Space4Mobility Hackathon Vienna was held from 24.11.-01.12.2020 by Pioneers together with the Federal Ministry of Austria for Climate Action, Environment, Energy, Mobility, Innovation & Technology.
During the hackathon Asfinag, AustroControl, ÖBB and ViaDonau were looking for solutions to tackle current challenges using either Earth Observation (EO) or GNSS data and services provided by EODC. These corporate challenges included: Greenspace maintenance, flight safety, track network quality assurance and monitoring of flooded areas.
Teams consisting of startups and students from the fields of geoinformatics and data analysis presented their innovative ideas, results and prototypes to a top-class jury of experts. The winners were honored by Climate Protection Minister Leonore Gewessler.
EODC supported the Hackathon by providing infrastructure, virtual machines and data mentoring. A special EODC prize was given out to blackshark.ai, who won EODC's Cloud Advanced Bundle for 6 months.
Copernicus Hackathon Graz
The Copernicus Hackathon Graz was held in October 2020 and provided a stage for  developers, scientists, researchers, entrepreneurs and earth and space enthusiasts to develop innovative ideas and sustainable solutions using "Copernicus" data. Around 50 participants from 18 countries took part with finalists presenting their pitches to an online jury during a Live Streaming Event.
EODC was part of the jury and especially excited to hand out two special prizes for the projects using EODC infrastructure. The winners received our Cloud Package for 6 months, worth € 3.600.
The first prize went to the "Defire" team presenting their concept of assessing the risks of fire outbreaks and they also received the coveted tickets for the Copernicus Accelerator.
The second prize went to the "Ubicube" team's presentation on geospatial patterns, specifically air quality models.
The Copernicus Hackathon was organized by ESA BIC Austria and Science Park Graz in cooperation with the Graz University of Technology, the Federal Ministry for Climate Protection, Environment, Energy, Mobility, Innovation and Technology, the FFG Research Promotion Agency, EODC, Geoville and SentinelHub.
Outlook: C-SCALE project starting in January 2021
C-SCALE (Copernicus – eoSC AnaLytics Engine) is the H2020 INFRAEOSC-07 A6 project proposal submitted by a consortium of 11 partners under the coordination of EODC and is planned to start in January 2021.
C-SCALE aims to scale up the EOSC Portal by integrating federated Copernicus resources with pan-European EOSC computing and storage providers, including resources from the Copernicus DIAS platforms and the Collaborative Ground Segment nodes. This wide infrastructure will be optimised for very large FAIR data handling and fast user query response to support Copernicus data uptake.
The C-SCALE consortium, led by EODC, consists of a geographically dispersed, well-balanced composition of SMEs, public and scientific organisations. The members of the consortium have been carefully selected bringing together key European actors from the EO sector working with Copernicus EO resources, such as EODC, Deltares, CESNET, VITO, Cloudferro, and TU Wien with core infrastructure and federation organisations from within EOSC such as EGI, INFN, SURFsara, GRNET, and INCD.